Greenholme Viv
---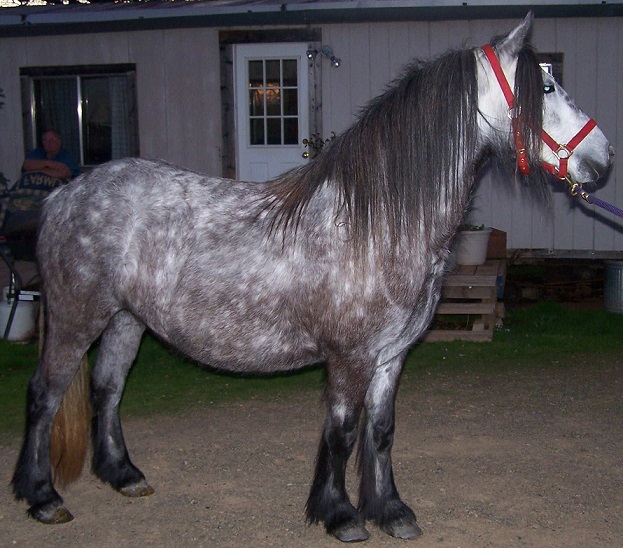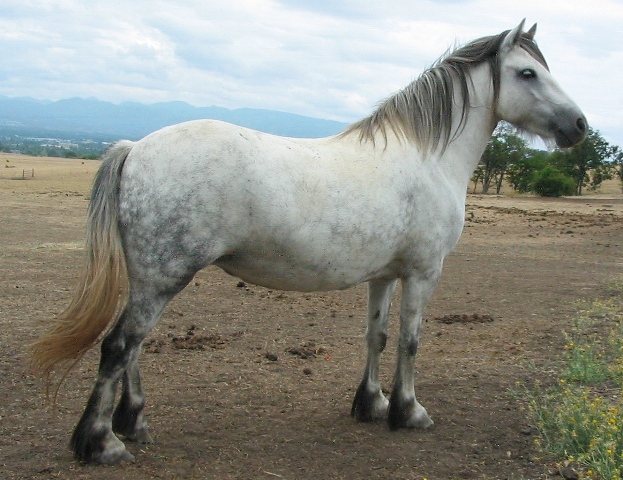 Greenholme Viv was foaled in Cumbria at Greenholme Fell Pony Stud on 13 July 2003. I saw her in February 2004 and wanted to buy her but it didn't work out. In Fall 2006 I was given another opportunity to buy her and this time it worked.
Viv arrived in the USA, 13 February 2007. Photo at left is at her arrival. Picture on right was taken in August 2009.
Viv is definately one of my favorite gray foals or mares I've seen while visiting studs and shows in England. She is sired by Severnvale Grey Bobby, an accomplished competitor in hand, driven and under saddle. Viv has no formal training at this time but is gentle to handle. My cousin and her daughter have sat on her back, bareback, and Viv minded not. She has also been saddled and given lead line rides and even attempted a trail ride, hoping she'd just follow, but she preferred being led than ridden. At last measurement, she was just shy of 13 hands.
We took Viv to the Horse Expo in Albany, Oregon April 2014. She has no formal training but is very easy-going, so we decided to try using her to haul in the obstacles that other ponies would be using. Below is a photo of her first time with garbage cans hanging to both sides of her and she didn't really mind much, even though it was also a very windy day. She's a trooper!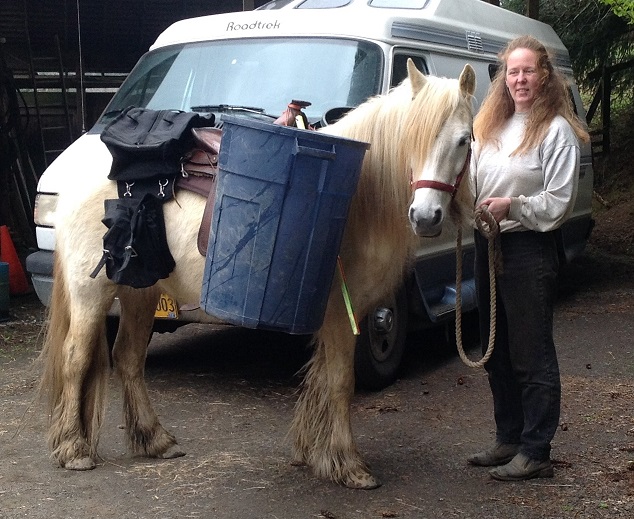 At the 2009 Brookside Mountain and Moorland Show (in California) Viv took 3rd out of 15 in the over 4 class.
Viv is currently in Medford, hopefully being bred to Copper for a 2015 foal which is already spoken for.
Viv has been FIS tested at Texas A & M and she is clear.
Foals Viv has produced for Braeberry Farm.
Braeberry Whimsical Legend
, gray/black mare by Townend Jonty, 2007
Braeberry Jasper
, gray/black gelding by Copperbeech Casper, 2010
Braeberry Victor
, bay gelding by Copperbeech Casper, 2011
Foals Viv has produced for Moonlit Fell Pony Farm
Moonlit Stargazer Lily, gray/black filly by Brackenbank Romany's Prince, 18 April 2013