Townend Bunny
---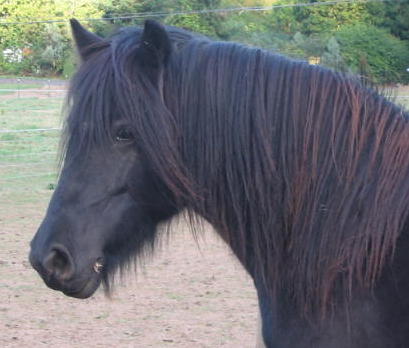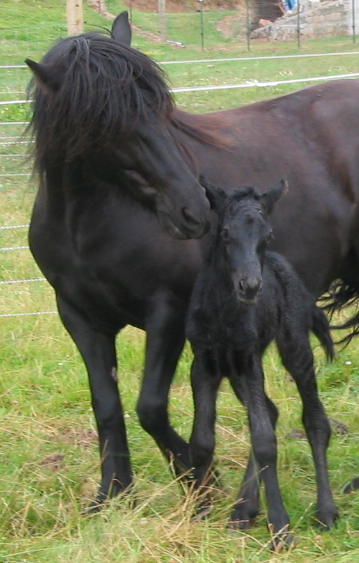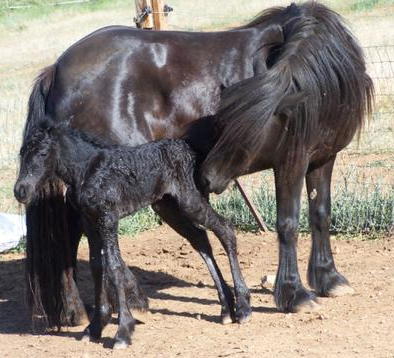 Townend Bunny was foaled July 1999 in Cumbria, England and flown to Washington as a foal. We purchased Bunny in the summer of 2004 from Musta Hevonen Farm (due to a fatal car accident, Musta Hevonen no longer has Fell ponies).
Bunny is friendly, especially if food is involved. She is all black and in the correct light her summer coat has a nice dappling affect on her barrel. She can turn on a dime if she wants to, but often likes slow motion when people are involved. She is 13hh. She likes to be boss mare and can come across as mean to the other ponies when food is involved. She is very protective of her foals around other animals but quite willing to let humans be involved.
Bunny's sire, Drybarrows Jeff, has won multiple Championships in the UK.
Bunny's typing on the foals seems consistant: short, compact, sturdy and loves food, oh and should I add, female?
Bunny is currently in Medford with the hopes of breeding her to Copper for 2015.
Bunny's first filly, Mustahevonen Rheged's Trixie, joined our herd in November 2009, produced a lovely bay filly and has now found a new home in California in 2012. The mother/daughter resemblance is unmistakeable.
Bunny has been FIS tested and she is clear.
Foals Bunny has produced for Braeberry Farm.
Braeberry Anne
, black mare by Broughhill Hadrian's Wall, 2005
Braeberry Liberty
, black mare by Broughhill Hadrian's Wall, 2007
Braeberry Magna Carta
, black mare by Broughhill Hadrian's Wall, 2008
Braeberry Lydia
, bay mare by Copperbeech Casper, 2010.