Braeberry's Tamarind
American Draft Pony Association & Registry #08-00398-07
---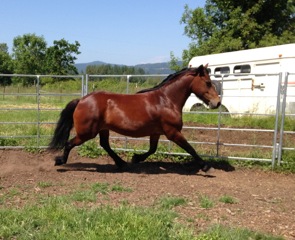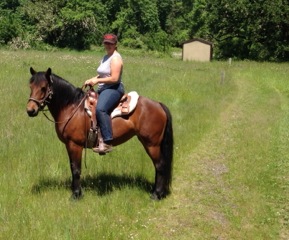 Bay mare, half Fell with awesome movement and confirmation. She is currently in Eugene continuing her training and is available for purchase.
Nutmeg's third foal and third filly arrived early 12 June 2007. She's bay with no white markings.
By day three this filly was running circles on our hillside with poor Nutmeg trying to keep up. Her full sibling, Poppy, did the same thing the previous year. She is spunky and adorable to boot!
She respects the halter, leads and ties well, stands for the farrier and vet, lunges well at all gaits both ways. She trailers well. She likes eating blackberries off the vine or from a hand. As she matures, she is slightly taller, and definately stockier than her dam. She is still a bright bay. When she moves in the pasture, we just stop and enjoy, she is such a pleasure to watch.
She is registered with the American Draft Pony Association and Registry.