Braeberry's Cassie
WPCSA registration #H6644, part Welsh
---
Cassie is available for sale to a 4-H, pony club or other show home.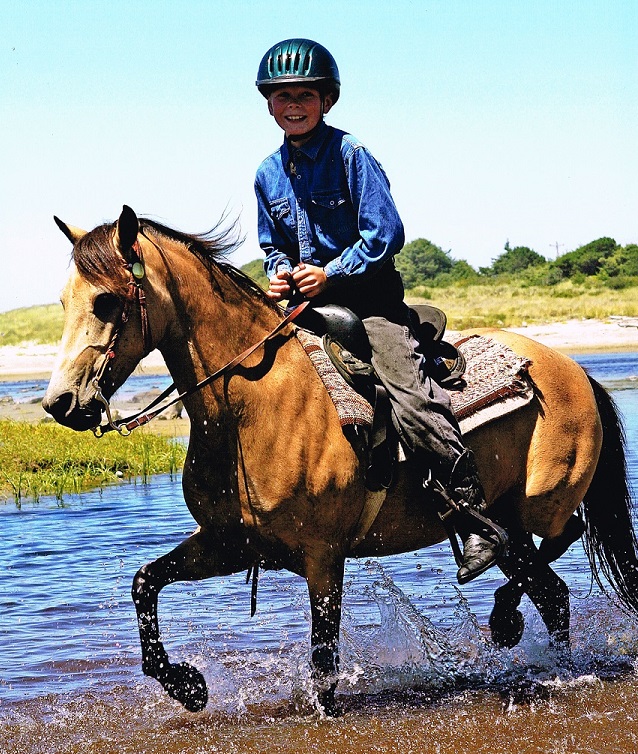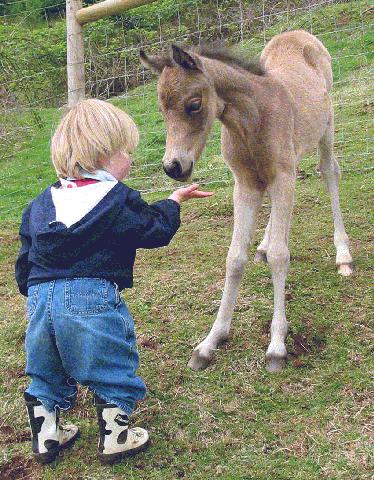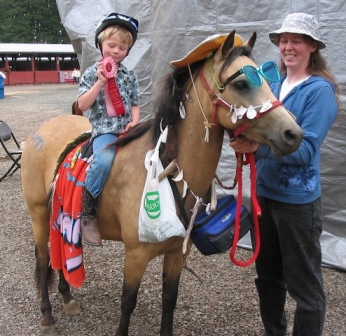 Cassie is an elegant buckskin mare that was our first foal. She is very dear to us, and our son used her for 4-H this year, developing his own riding skills. Through weekly lessons with a beginner rider, we discovered some of her dislikes and her reactions. She doesn't like lots of leg gripping or a very unbalanced rider, thus my son learned a couple times how to land, and also how to feel what she was going to do and stop her or ride through it. As his instructor said, if you learn to ride a strong-willed pony, you can ride almost anything. He is not a confident rider, but based on his desire and effort, he performed with Cassie well enough for all of us to be pleased. With a confident and eager young person, Cassie could go far and do very well. She has much more skill than he does, but he didn't always know how to get it from her. She is not mean, but definately likes a more knowledgable rider on her back to show off the best of her qualities. A confident novice with an instructor would also be a good fit. She has potential as a dressage pony and as a hunter pony. She has great movement and is quite athletic. She has been allowed to mature without excess work and is now ready to get serious about going the next stage of her skills. She is very intelligent and very attractive and seems to know it.
Click here for photos of Cassie in Eugene summer of 2013.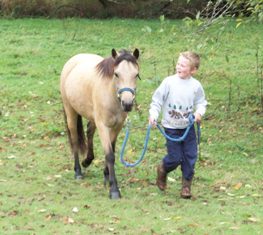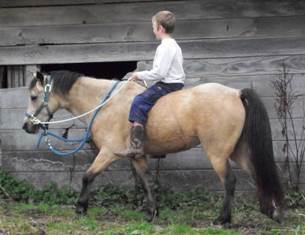 Cassie was foaled 27 April 2005 and is Nutmeg's first foal. Cassie's sire is Rosey's Gold Star, a registered palomino Section B Welsh.
Her official name, Cassia, is the tree used as cinnamon in North America. She has lovely movement, especially when there's another horse to show off for, and would be great in the show ring.
Cassie is a character, loves attention and lets kids work around her. She has participated in a petting zoo at the Ag Fest in Salem, Oregon twice. She attended her first show as a Beach Bum in the costume class at Benton County Fair, 2 August 2008, ridden bareback by our son. She didn't have a worry in the world about all the things we hung on her or tied to her, but she didn't want to stand still in the line up-- too many things elsewhere to explore!
She had three months of training, started under saddle and over poles in 2009. She was getting a bit frisky with the work, so we gave her a break for a year to soak it all in and live with our herd in Medford, Oregon. In March 2010 we moved her to Lincoln, CA where she spent the summer participating in a few pony party events and performed excellently, not bothering about water, helicopters or airports. She has spent the winter and spring at another home in Lincoln, getting more riding experience. She has calmed down immensely and has matured to a very fine temperament pony with little pony attitude, just lots of willingness and desire to please.
Cassie is an eyecatcher and will be stunning in the show ring. She has stayed small, an informal measurement of 12.2 hands. She will do well with a small, confident rider. She did not baulk at my riding her bareback at the beach one day, but I felt like I was riding a greased pole. She has yet to meet someone who doesn't like her or she doesn't like. Her behavior is very trusting, obvious that she's had no bad experiences with people or much of anything for that matter.
Click here to see sire's pedigree.