Selkie
---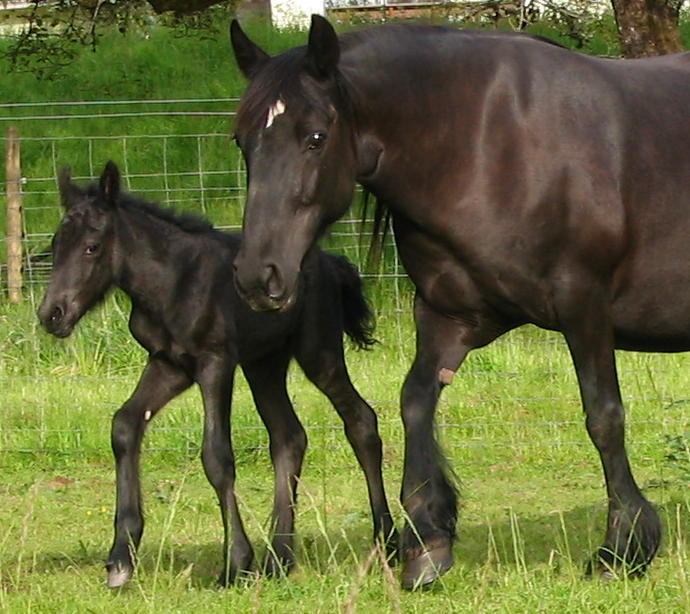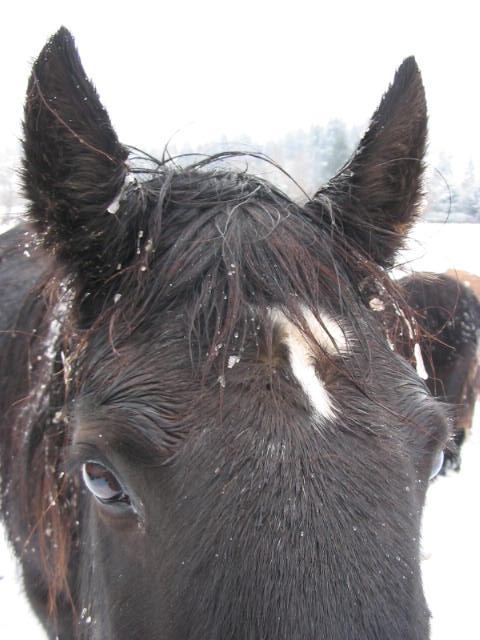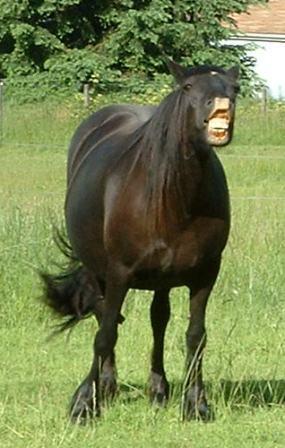 Ravenscairn Selkie was foaled in Aberdeenshire, Scotland, 18 April 1994. She lived there for a few years before moving to Cumbria where she was part of the well established herd at Lownthwaite Stud. She has been backed and likely driven but mostly she has been used as a broodmare. Even in England, her bloodlines are more unique than average due to her breeding in Scotland and her sire. She arrived at Braeberry Farm 28 April 2005.
She is reserved and has warmed up to us slowly. She is usually boss of the herd though sometimes shares it with other strong mares. Her sire, Greenfield Gay Lad, is a champion and over 30 years old, he is still a stunning and active Fell.
She is a great dam and looks after the little ones with the skill of an experienced mare. She's a very plain looking mare in the pasture until she has a foal by her side, then all of a sudden she looks stunning. The foals definately bring out the best in her!
Photo in the middle is Selkie's only marking and I suspect how she got her name. A selkie in Scottish lore, is a seal who can come on land, shed her skin and became human. The marking is somewhat like a jumping seal. The photo also shows her kind eye and broad forehead. Photo at right shows her talking to us. Usually she does this to show us her dissatisfaction or displeasure with something, like we are too close to her foal or we've not fed her enough. She seems to do it when she knows we are looking!
Selkie has been trail ridden in Medford, and took it all as if she does it every day. She's very calm and easy going. The only thing to really spook her is camera flashes. Her foals typically grow in height very fast in the first couple of years, then they slow down, look really awkward for a couple of years, then fill out nicely by five or six.
She is currently in Medford and has been bred to Copper for a 2014 foal.
She was leased to Hawleywood Farms for a 2013 foal and they bred her to their paint stallion and had a healthy colt 4th June 2013. His photo is below.
Foals Selkie has produced for Braeberry Farm.
Braeberry Bonnie Lass
, black mare by Peepings Raven, 2005
Braeberry Douglas
, black gelding by Broughhill Hadrian's Wall, 2007
Braeberry Emma Mae
, black mare by Broughhill Hadrian's Wall, 2008
Braeberry Sampson
, black stallion by Copperbeech Casper, 2010
Braeberry Hwinhynym
, black filly by Copperbeech Casper, 2012