StirlingRidge Marguerite
---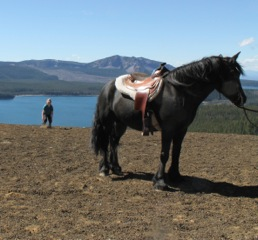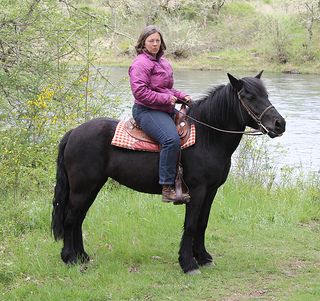 Margie is now in Buckley, Washington and will be mostly a 4-H pony for Kaylin but also a trail pony for her mother Amy. She joins other equine and is going to get lots of attention. We look forward to posting more about her as she and Kaylin get to know each other and go do things together.
Pictures of Margie during spring 2013 training and an ACTHA competative trail ride. Margy took 6th out of 17 at the ACTHA event, though it was only her 26th ride. She may be green, but she's very willing to cooperate with her rider and seems to enjoy it! Check out the water, suspension bridge, and rain slicker to name a few of the obsticles she had to manuever. She scored 96 out of 120!
See video of Margie on her youtube playlist, also spring 2013.
Townend Caitlin's third foal arrived on 26 May 2007 at Stirling Ridge Farm. Her sire is BroughHill Hadrian's Wall.
Margie is a black mare with a few white hairs on her forehead. She is maturing to a lovely looking pony, she stands 13.1h. She is friendly and was taught basic ground rules through natural horsemanship methods as a foal. We thought about starting her in spring 2011, but she wasn't mentally ready for training, so she has spent pasture time with others at Seal Rock, Boring, and Medford, Oregon. She was moved to Eugene spring 2013 very ready for training. She has all the great qualities of a Fell Pony, good bone, sturdy, well built, and the desireable thick mane and tail. Margy has the added skills of being able to turn on a dime on her haunches and we'd be very interested in someone trying her as a cowpony. She will be a willing athletic pleaser!
Margie has been FIS tested at Texas A & M and she is clear.