Ginger
---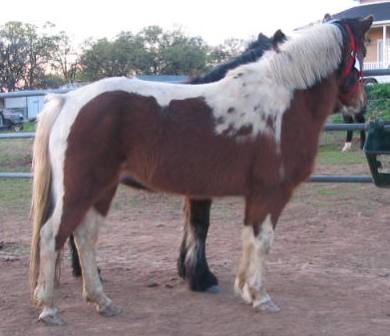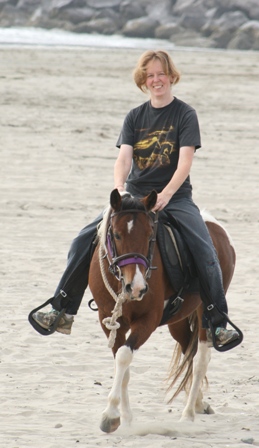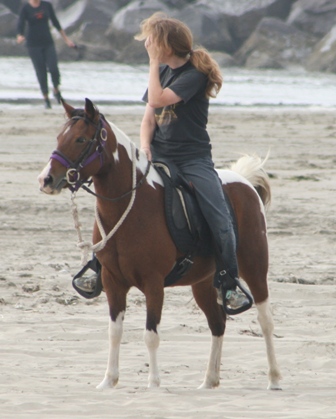 Ginger is near Salem with a family that really enjoy her. She has been renamed Whinny.
We purchased Ginger back having missed her 'naughtiness' since she left. She is a grade, pure pony, tri-colored pinto. She and Nutmeg were best buddies in the pasture and both bred to the same Welsh stallion before we started with the Fells. Her half Welsh foal is a palomino pinto and has turned out awesome. Ginger's previous owner has kept him.
We do not know Ginger's breeding, but do know she started somewhere on the Oregon coast. She only came up for sale as she'd escaped a pasture near us and the person who caught her was given permission to sell her. For all we know, she could be very well bred and maybe even registerable at one point. She has very good conformation and sweet temperament when she's not being pure pony!
Ginger is between 12-13 hands. She is trained to ride, though needs some finishing and ridden bareback with just the halter and lead. She's been to the beach, trail ridden, used as a lesson pony and is not spooky about most things. She no longer escapes fences as she did as a youngster. She is pure pony, can be stubborn, but doesn't have a mean bone in her body. A timid rider will not get her to do much, but someone willing to take the lead and work her will have fun. She's great for the farrier, loves attention and has been healthy all her life.
One of my favorite stories of this mare is shortly after we bought her the first time, and before our fencing was good at our Boring farm; part of the paddock was fenced with wooden pallets. One afternoon I looked out the window to see Ginger wearing a pallet around her neck and trying her hardest to graze. She was just standing, no panic, trying to lower her head for the grass and couldn't reach. At this point she's just two. I went out, wondering how I was going to get it off, but she didn't really mind me getting her to put her head down and push it out the opening she'd pushed in, obviously to get grass on the other side of the fence. I wished I'd had a photo!