Braeberry Ruby
---
Ruby has been sold to Kimberly Dunn. She will be finishing her training and likely offer her for sale in the future.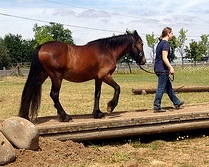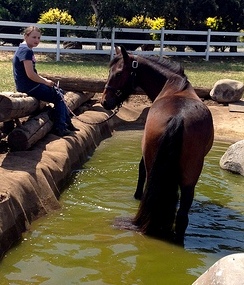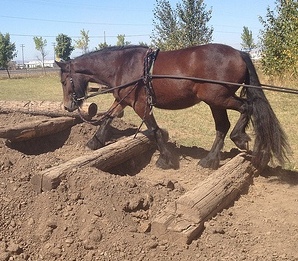 See more pictures of Ruby during late summer 2012 training here on her Flickr page.
Ruby is Murthwaite Chanthal's third foal and another bay filly. Copperbeech Casper is her sire. Ruby has a 25% chance of having a bay gene from both parents, which would make her homozygous bay as a future broodmare. Her confirmation is strong and she will be a great example of Fell type. She comes from successful showing lines on both sides. She has a few scattered white hairs on her forehead.
Ruby was foaled on 28 June 2010 and was friendly and independent. As a two year old, she likes the security of other ponies around her, especially Braeberry Lydia, her pasture mate since foaling. She's had two months of ground work including long lining and trail walking (some pictures above). See the Flickr link below for more information and pictures.
The picture below left is Ruby with her half sister, Braeberry Clarabel. We worked them in the round pen together for a bit. They have matching gaits and would be an excellent driving pair. If you are interested, contact us for a pair discount.
Video of Ruby and Clarabel in the round pen together.