Braeberry's Princess Eleanor
---
Princess is sold and will be moving to Washington soon.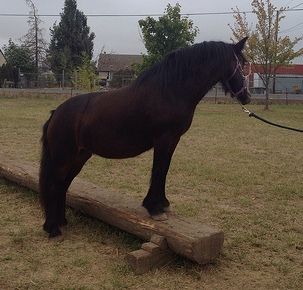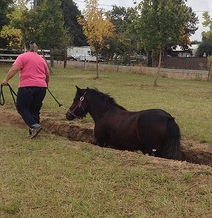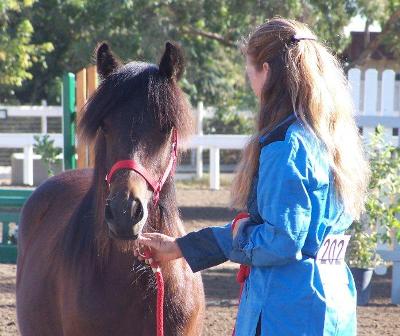 Due to the loss of our first filly from Murthwaite Yelena, her owner agreed to let us lease her for another foal. She was bred to BroughHill Hadrian's Wall and a bay filly arrived on 18 June 2010. She is friendly, feminine, compact and well put together. She has been in Eugene getting the same ground work that our other two year olds just got, working with trail obsticals (pictured above left photos), long lining, and going for walks among other things.
See more pictures of Princess during training on her Flickr page.
Her name comes from her foal date as it is the birth date of not one, but two Eleanors in England who where both princesses.
We have purchased her dam, so she is now available. It would be easy to want to keep them all. She will be a great family pony and potential broodmare too.
September 2011, we took Eleanor to the Mountain and Moorland Brookside show (above right photo). I had not worked with her until giving her a bath the night before. We got to the show just before our class, so training to trot with me happened in the ring. She got the idea a bit but not enough to really show off, and ended up taking 4th place.
She is kind in the pasture and gentle with kids and people around her. She is currently 13.1 hands.
On 21 January 2012, we went beachcombing to see what the storms brought in. The usual bottles, plastic and bits of wood were scattered along with a large TV, picnic table, adirondack chair, and the find we brought home was a 16 foot canoe. It's damaged but floats just fine. The pictures below show us using it in our western pasture which should not be underwater. The ponies followed us around, not bothering about the water. One photo shows Princess Eleanor to her knees in water (not an in focus photo, but I wanted to show the depth).