Townend Caitlin
FP3617
---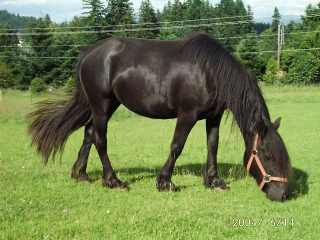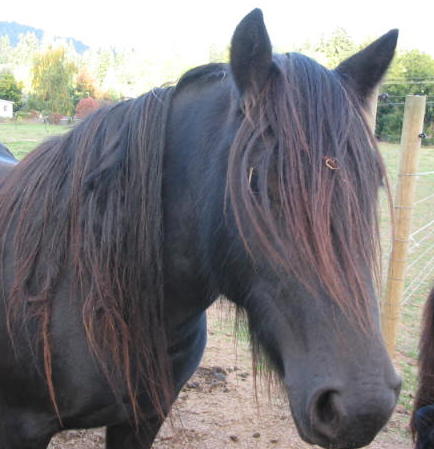 Townend Caitlin was foaled May 2001 in Cumbria, England and flown to Canada as a foal. We purchased her in the spring of 2004, in foal, from Deerstones Farm. Her first foal was a black filly, Deerstones Lillian, born 13 April 2003.
Caitlin is friendly and quiet. She comes over quickly, but other ponies will easily cause her to stand aside. She loves attention. She was patient and not overprotective with her first foal, but took to it quite nicely. She is all black with a few white hairs on the forehead. She's lovely to watch run and kick up her heels in the pasture with her pasture mates and she is an awesome manager of stallions and colts, stepping in as needed to manage a stallion when other mares and foals are in the pasture.
She lost her foal for 2006. We suspect cherry tree wood caused a late abortion. Caitlin is now residing at her new home, Stirling Ridge Farm. She is missed here, but I look forward to hearing about and watching. Caitlin had a solid black filly for Jennifer on 26 May 2007. Her name is StirlingRidge Marguarette or Margy and she joined our herd summer of 2009.
Prior to our purchase, she had some basic training and handling. She seems to struggle with changes of locations and is slow to adapt to new surroundings. She was shy and a bit skittish in Canada, when she arrived, then she went to a neighboring farm for about a year, where she did not settle well at all. She came to us and was free in the pasture with only her foal and Nutmeg initially. As other ponies arrived, she already knew the place which seemed to help her accept others. When we purchased our first stallion, she already knew him from Canada, and they were best friends together in the pastures. As I didn't have much time to work with her, I asked nothing more than basic handling and vet care.