Braeberry Sampson
registered with FPS
---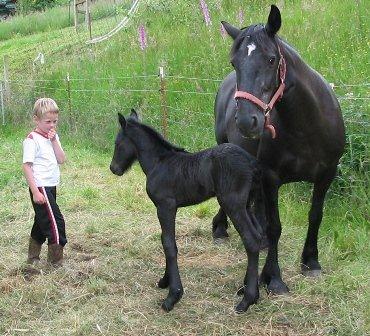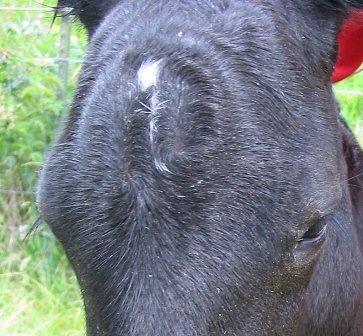 Sampson is sold and I delivered him to San Diego, but they were expecting to move to Georgia in the spring of 2011.
Sampson was foaled 1 July 2010, in Boring, Oregon. He is Ravenscairn Selkie's fourth foal for us, her first sired by Copperbeech Casper. He should mature black and has a small, white star.
I handled Sampson every day for the first week so that he would be used to being handled. Sampson was only pastured with his dam for the first couple of weeks and kept in a pasture near our barn, where my son and I have camped out for the summer. He saw the car going in and out, us wandering near, bicycles, squirt guns and the like. After two weeks, we introduced him to Poppy and her colt, Cocoa. At first, Sampson's dam wouldn't let him mingle, but within the week the two colts were starting to play and they kept it up all summer.
Once in the big pasture, he didn't want to come up to us, mostly because Selkie is protective and keeps him from us until she is ready to introduce us again. We now go into the pasture and he's often the first one to us, only because he can run faster than Cocoa.
Sampson has solid confirmation, strong movement and excellent bloodlines. He could be kept as a stud colt in this country, due to his more unique bloodlines. He has Greenfield Gay Lad, a champion older pony in England, on both sides of his pedigree. He will make a good riding or driving pony. He is likely to get to 13.2 or 13.3 h. He's going to make a very traditional type Fell pony.